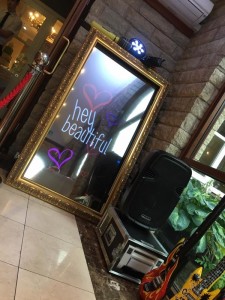 Our stunning and fun Magic Mirror is a very fun and interactive alternative to our popular photo booth. Meet "Magic" poor magic is stuck in the box and needs entertaining, listen to what he asks for the best pictures in the universe. With a collection of animations switchable animation themes are Magic Mirror is the perfect addition to any Wedding, Corporate, Christmas or Halloween party.
Controlled via touch screen animation, be amazed as the magic selfie mirror will talk and interact with guests helping them to strike the right pose for stunning pictures as well as more importantly keeping them entertained. Just view the video for a quick demo.
As with all of our photo booth packages, the Magic Mirror packages come with guestbook, unlimited visits and prints for your guests and will manned by a member of our FAB team for the duration of the booking. Our Magic Selfie Mirror also includes a selection of props if required as well as our red carpet and red rope barriers to give it that VIP feel.
We provide Wedding and Event Hire throughout the North West of England including Lancashire, Preston, Lancaster, Lake District, Manchester, Liverpool, Southport, Wigan, Bolton, Chorley, Leyland, Blackburn, Burnley, Cumbria, Cheshire and Yorkshire and surrounding areas.
Example Prints and Photos
[alpine-phototile-for-flickr src="set" uid="[email protected]″ sid="72157678195701622″ imgl="flickr" style="wall" row="4″ size="240″ num="20″ shadow="1″ highlight="1″ curve="1″ align="right" max="100″]
Key Features
Unlimited Visits
Unlimited visits to the Photo Booth throughout the duration of the booking.
Unlimited Prints
Unlimited prints for the duration of the event. Your guests are also welcome to request a print to take home as well as one for your guestbook.
Interactive Animations
We have the most interactive animations on the market helping your guests party through 'Magic' mirror experience.
Props & VIP Feel
Although not essential with the mirror we offer a large selection of assorted props for your guests to use in their poses. Our mirror also comes with red carpet and red rope barriers for that true VIP experience.
Guestbook Included
All packages included a complimentary guestbook for your guests to stick in their photos and write a message.
Customiseable Prints
All prints from the mirror can be customised with your own message, branding or names.
USB
All of you photos and prints will be ready take away on a USB stick at the end of your booking.
Compact and Quick
Can be setup in any room requiring only 1m square area for the mirror itself and room for the guests.
Magic 3
£395
3 Hours Evening Hire
For an evening party anytime between 7pm and 10.30pm
Magic 4
£495 4 Hours Evening Hire
For an evening party anytime between 6.30pm and 11pm