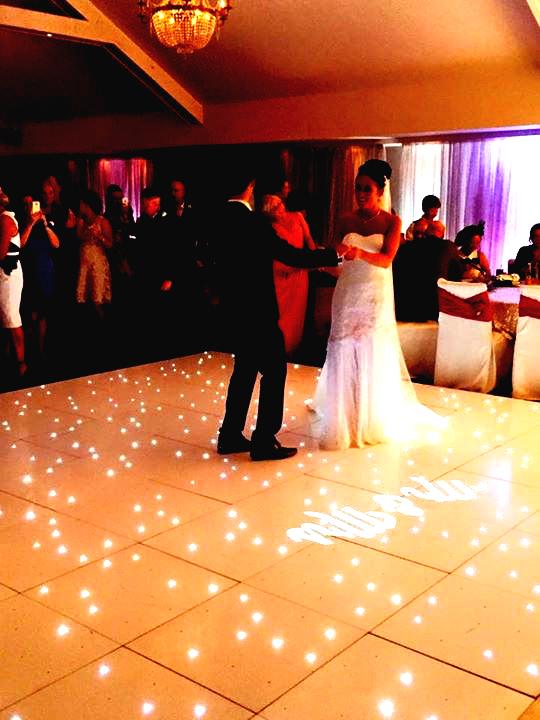 Our twinkling LED white dance floor hire is perfect to add that extra bit of class to your wedding or event.
Our dance floors will always be installed in clean, pristine condition and cannot break apart in use.
The dance floors come in a range of sizes an options to best suit your venue and party. Ultimately the size dance floor you opt for depends upon the size of space that your venue can allow however when you contact us we'll advise of the best available size based on your guest numbers and the venue chosen.
We cover all of the North West of England including Lancashire, Preston, Lancaster, Southport, Burnley, Blackburn, Wigan, Bolton, Chorley, Leyland, Cumbria, Cheshire and Yorkshire and surrounding areas.
Please note: in order to keep our floors in fantastic condition for your Wedding Party we do not allow tables, chairs, stickers, transfers or decorations to be put on the dance floor. Do not use metallic confetti or confetti cannons on these starlit floors it can cause them to short circuit and stop working, we cannot be held responsible if this happens. As with all electrical products we advise that no drinks are spilled onto the dancefloor or its power supply as this may cause the lights to switch off.
Get £100 of our photobooth and magic selfie mirror packages when you hire a dance floor at the same event!
Dance Floor 10
£375
10ft x 10ft White LED Dance Floor
Suitable for a total event guest list of approx 60 / 20 dancers at one time
Dance Floor 12
£395 12ft x 12ft White LED Dance Floor
Suitable for a total event guest list of approx 100 / 30 dancers at one time
Dance Floor 14
£425 14ft x 14ft White LED Dance Floor
Suitable for a total event guest list of approx 120 / 40 dancers at one time
Dance Floor 16
£450 16ft x 16ft White LED Dance Floor
Suitable for a total event guest list of approx 160 / 60 dancers at one time
Dance Floor 20
£650 Upto 20ft x 20ft White LED Dance Floor
Suitable for a total event guest list of approx 300 / 80-100 dancers at one time